The perfect match of each part produced on the required criteria is the goal of VibroPress, which is achieved using high-level technical measurement tools. Our certified company has a metrological laboratory equipped with a control instrumentation to perform dimensional and surface checks and radioscopic checks on the manufactured products, to support the visual check carried out by the operator. In this way, the whole die-casting cycle of aluminum alloys is constantly supervised.
Spectrometer for alloy control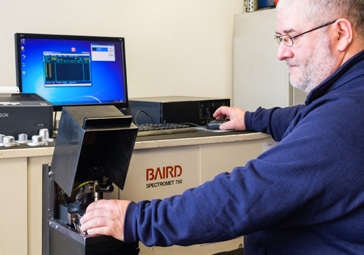 The spectrometer is the machine to verify the correct chemical composition of each aluminum alloy used. We do the spectrometry of every aluminium alloy delivery. At the reception.
Moreover, we do the periodic spectrometries of the molten material in the holding furnaces.
Three-dimensional control machine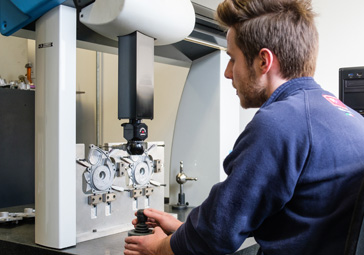 The three-dimensional control machine is used to operate the controls of the die-castings with the utmost precision, with the possibility of making a comparison with the 3D mathematical model. Using this tool, in fact, critical / important quotes are periodically measured, identifying their correctness. The checks carried out are archived in a report that certifies the execution of the check, the measured dimensions, the compliance and the tolerance.
To guarantee the maximum accuracy of the measurements, the metrological room is kept at a controlled and constant temperature.
X-ray inspection system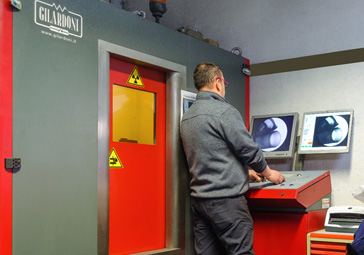 The radioscopy implant is necessary to verify the absence of porosity inside the produced parts.
On customer request, we can save the checks made, storing them and associating them with the production lot.
An ad hoc software for an accurate production process track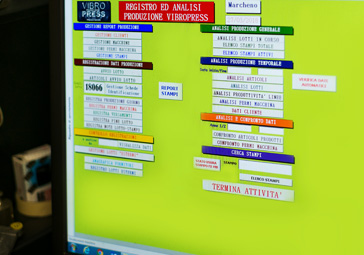 Thanks to a software created specifically for our company, we are able to report all the characteristics of a product in a single technical sheet, such as:
History of the mold;
Documentation relating to each item (control form, visual aids for the operator);
Management of new orders and material in the warehouse of our contracting partners that make the machine workings;
Management of measuring instruments (calibration deadline, maintenance, etc.);
Management of reports of non-compliance by customers.